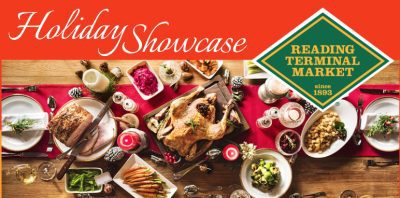 Friday, November 13 and Saturday, November 14th, 10am-2pm
Location: Rick Nichols Room and virtual via Facebook Live
Join us for the 2nd annual Reading Terminal Market Holiday Showcase, and let us help you plan your holidays with ease.  This year, our holiday celebrations will look different from what we're used to, but whether you are hosting a small gathering, celebrating virtually, or even just need to treat yourself, you will find everything you need all under one roof at the Market. At this event, dozens of merchants will highlight their holiday offerings, both at a window display in the Rick Nichols Room and virtually on the Market's Facebook page live. The public is invited to browse all of the holiday options, get inspiration, ask questions, and place pre-orders with the merchants directly.
Participating merchants include:
Amy's Place
A Taste of Spain
Bassetts Ice Cream
Beck's Cajun Café
By George
Careda's Caribbean Cuisine
Contessa's French Linens
De'Village
Down Home Diner
Dutch Eating Place
Famous 4th Street Cookie Company
Flying Monkey Bakery
Fox and Son Fancy Corndogs
Giunta's Prime Shop
Hatville Deli
Herbiary
Hunger Burger
Iovine Brothers Produce
John Yi Fish Market
Jonathan Best Gourmet Grocer
Kamal's Middle Eastern Specialties
Kauffman's Lancaster County Produce
Lancaster County Dairy
Little Marrakesh Bazaar
Luhv Vegan Deli
Market Blooms
Metropolitan Bakery
Mueller Chocolate Co.
Nanee's Kitchen
OK Produce
Old City Coffee
Olympia Gyro
Pennsylvania General Store
Russ Brown Photography
Smuckers Meats and Grill
Sweet as Fudge Candy Shoppe
Sweet Nina's
Sweet T's Bakery & Snack Shop
The Head Nut
The Original Turkey