Philadelphia's Iconic Cookie — Famous 4th Street Cookies have been in the Reading Terminal Market since 1978. Our Cookies have been made following a treasured family recipe with only the finest premium ingredients for over 40 years. We have never used any preservatives nor artificial flavoring or colors of any kind. Our cookies taste homemade because they ARE homemade.
Starting with a classic Chocolate Chip Cookie that was big, thick, fresh, chewy, and oozing with genuine chocolate chips, we have now grown into a nationally recognized company with over 28 flavors.
Visit us at our stand at the Reading Terminal Market and you can now choose from our current selections including a creamy White Chocolate Macadamia Nut, thick and chewy Oatmeal Raisin, crunchy Chocolate Chip with Walnuts, crispy Snickerdoodle, and even a luscious, fresh dipped Black & White.
We bake fresh every day, so stop by today for a Box of 12, a Bag of 6, or even just one of our fresh baked cookies as a treat.
For trays, gift boxes, catering, and large corporate orders, visit our website:
Famouscookies.com
Or call us at 215-625-9870

Bakery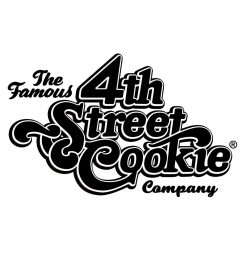 Merchant Information
Mon - Sun: 8am-6pm
Year Opened: 1982
Map Location: A2
Payments Accepted: Cash, Credit Cards, RTM Gift Cards
ORDER ONLINE